At HowMuchWillitSnow.com we believe that weather forecasts should be simple and easy to understand. Many of you have suggested improvements and we've addressed much of your feedback for this winter. Here's a rundown of what's new.
Recorded Snowfall
Providing a simple view of past snowfall is difficult for a few reasons:
Past snowfall measurements are available from both official and amateur sources. But depending on the point collected, the timeframe of measurement can differ. Some points measure midnight to midnight and others from early morning to the following early morning. Many sites don't report snowfall continuously throughout the season.
Snow depth measurements are not available until a few days after the snow has fallen. If only part of a snowstorm is recorded on the day it happened and the other half was recorded a day later, it would seem as though we under-reported.
It is almost never possible to obtain snow depth measurements at the exact location where users want them (for instance, in the center of their city or town). This means we need to approximate based on the points where measurements are taken. Slight changes in distance or elevation between points have a dramatic impact on measured depths.
For this season, we decided to prefer the accuracy over the days it snowed vs. the inclusion of more sources to average. We believe this yields a more consistent and accurate measurement.
We'll also display snowfall results sooner, by using amateur sources. You're more likely to see only one missing day of data.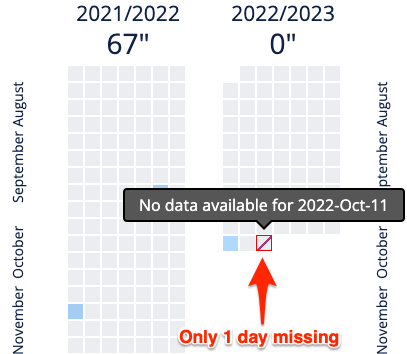 You're also more likely to see recent snowfall in our email alerts, be sure to sign up if you haven't already!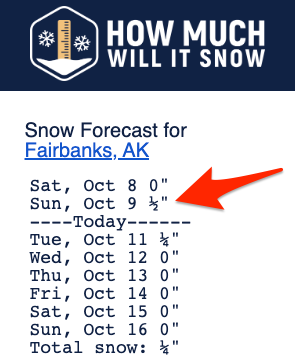 Past snowfall measurements may change a few days after it is reported as more reliable sources become available. We're open to tuning individual locations, so please let us know if you think something's off.
Legend
Many of you told us that you loved the past season snowfall heatmaps, but you'd like to see a legend for what the colors mean. We added one!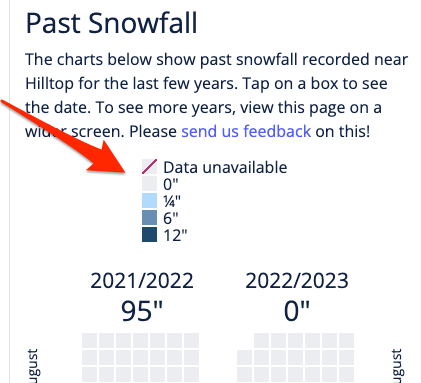 Group Passes
The ski industry in the US has made some big changes in the last several years. Alterra and Vail offer season passes to their entire resort portfolios. We added an Ikon or Epic "badge" to our resort pages and ranking lists so you can easily see which group each is affiliated with. Our ranking lists now let you filter by these group affiliations: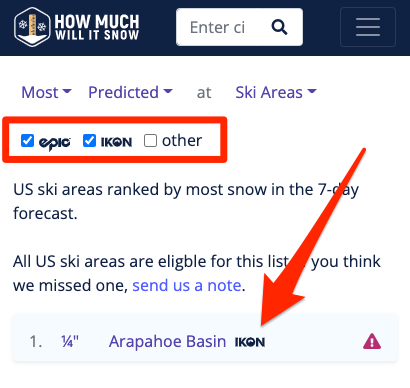 Dark Mode
Most of you visit our site from your mobile phones so we make sure our site renders well on them. We like the whole "dark mode" trend. The site will now render in a dark mode color scheme if your device is set that way. If you've never heard of it, here's a good summary on dark mode by Wired UK.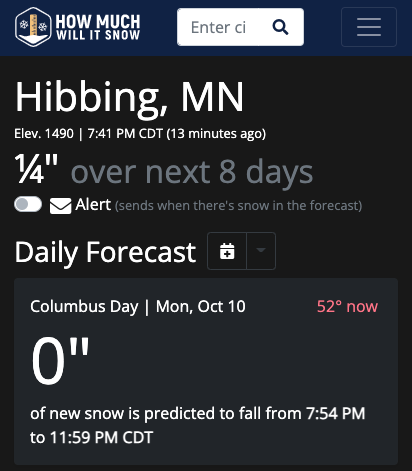 Blog
We have some great content on tap for this season that we'll be posting throughout the winter but we could always use more. If you are a great writer and love all things winter we'd love for you to write for our readers. Please reach out!
Bug Fixes and Other Updates
We'll post notable bug fixes here as they are addressed:
📅 Our calendars will report a full day's snowfall even when it's updated in the middle of the day.
Always Open to Suggestions
Do you have an idea or suggestion on how we can improve? We'd love to hear from you.
Wishing you and your family a happy and healthy winter season!
– The team at HowMuchWillitSnow