| | Yaktrax Walk Traction Cleats | BPS Ice/Snow Shoes |
| --- | --- | --- |
| | | |
| Price | ~$32 | ~$16 |
| Buy From | Walmart | Walmart |
| Set up | Intuitive | Needed online instructions |
| Best For | Walks, driveway cleaning | Hikes, hunts, serious snow pursuits |
| Pros | Lightweight | Stable |
| Cons | Coils can unwind over time | Rubber could stretch or break over time |
| Includes case? | No | Yes |
Safety first
The year I had my first baby, winter suddenly looked a lot more precarious. I was in the habit of going on dog walks daily, with my son either strapped to my chest in a baby carrier, or in a stroller. I wasn't going to let snow or ice stop us from our outdoor adventures—yet it became apparent that I needed a safe way to complete our winter walks.
The Centers for Disease Control and Prevention says around 1 million Americans are injured each year due to falls on snow or ice. Carrying a baby while I walked upped the ante for me.
Enter ice grippers
When I bought a pair of ice grippers, I had the confidence to walk on icy streets and paths around my home. I didn't have to fear slipping on ice and falling, risking injury to myself and my baby. I wore that first pair of ice grippers out.
Now I have two sons, ages six and four, and we spend a lot of time outdoors. I envision this winter, with the pandemic in full swing, we'll need to get out of the house even more—for fun walks in the woods or more serious hikes.
With plenty of ice grippers available on the market, I was curious to try one with spikes, and one without. Read on for more information on both pairs.
Spikeless: Yaktrax Walk Traction Cleats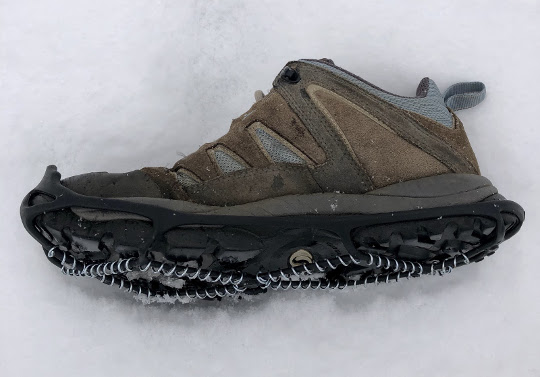 $31.84 Buy from Walmart
Set Up: Though the Yaktrax box these came in showed a picture of the cleats on the shoe, the design is such that mounting them is intuitive. These spineless cleats have a low profile and the coil system is comfortable under foot.
Best For: They are best for walks on icy sidewalks or streets, or easy to moderate walks on trails or in the woods. I would want something with spikes for a more challenging winter climb, but these serve the day-to-day needs of someone getting around in a winter environment, or just out snow blowing the driveway.
Pros: Lightweight, easy to use. Quality materials. Very comfortable underfoot.
Cons: Some coils started to unwind after a dozen or so uses. They were still usable, however.
Storage: These cleats are easy to take off. They also stay in place well if you plan to keep them on your hiking or walking shoes for the whole winter.
Spiked: BPS Ice/Snow Shoes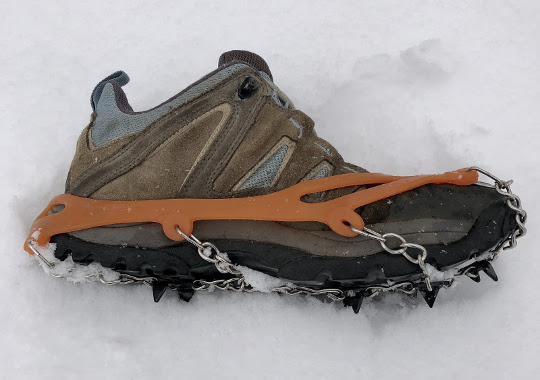 $15.80 Buy from Walmart
Set Up: When these arrived in the mail, they looked small, and I couldn't immediately figure out how to mount them on my hiking shoes. But the photos on the Walmart website made the process easy. Mounting them was intuitive for subsequent wears.
Best For: These cleats have spikes which dig in and grip the snow well. They are great for more serious hikes or hunts on snow and ice.
Pros: The spikes allow you to walk confidently both uphill and downhill on serious snow and ice. They are comfortable underfoot despite the spikes, and aren't bulky for walking. The chains are sturdy and well-made.
Cons: The orange rubber is stretchier than expected. I fear the rubber may stretch or break more easily over time.
Storage: I wasn't expecting the ice grippers to come with a small carrying case, but now that I have it, it's a major plus. These grippers are geared toward more serious winter pursuits, and the case (measuring 7.5" x 8.5" with a drawstring closure) allows me to stash them safely in my backpack without worrying that the cleats will rip my other gear.
Conclusion
Both pairs of ice grippers accomplished what I needed—giving me stability and confidence in a range of snowy and icy conditions. The Yaktrax are a great option for staying safe on your daily walks and outdoor activities. The Ice/Snow Shoes, with their spikes, provided more grip for technical and steeper climbs.
And priced at $18 and $15, neither one breaks the bank. Go forth and be adventurous this winter! Or just make it to the mailbox and back safely….
Do you have a favorite pair of ice grippers? Contact us and we will share with our readers.