At first, I thought the PEET Original Two-Shoe Electric Shoe and Boot Dryer was a luxury item I could do without. Then I saw the price tag: about $45. For the price of a couple of large pizzas, I could solve my wet shoe and boot woes.
I've used the shoe and boot dryer to dry my kids' sneakers and rain boots, my husband's work boots, and my winter boots. It dried those items in anywhere from one hour (lightly soaked kid sneakers), to eight hours (my husband's wet work boots).
The quick and dirty
Buy From
$44.99 from Bass Pro Shops
$44.99 from Walmart
Set Up
Easy. Instructions included.
Pros
Silent. Doesn't overheat or warp boots.
Cons
Takes a while (8 hours for really wet items).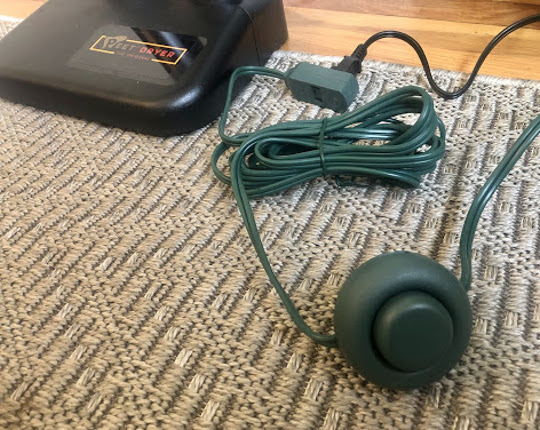 The dryer has no on/off button, so I also bought a Footswitch Extension Cord for $8.79. You can add them both to your cart at Walmart with this button:
So, how did I end up with my PEET Original Two-Shoe Electric Shoe and Boot Dryer?
My wet shoe problem
About a month ago, as I was getting my kids ready for school, I realized my son's sneakers were missing. After scrambling around the house, I found the missing shoes on the back steps, soaked from an overnight rainstorm. Major fail. Especially on a school day, when sneakers are required for recess.
I pulled the clean laundry out of our clothes dryer, and stuck my son's dirty, wet sneakers inside. The sneakers bounced around for a while; then I pulled them out of the dryer and stuffed them with newspaper. The shoes were not quite dry, but I had no choice but to send my son off to school in them.
Next, I had to clean the clothes dryer. It was filled with dirt, tiny pieces of broken leaves, and some fine particles of who knows what from the out-of-doors. Never again!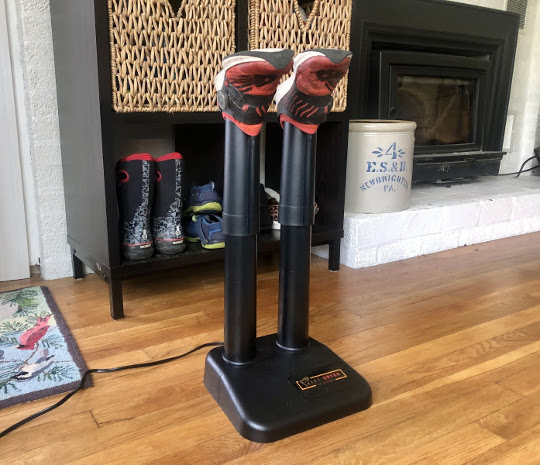 Easy solution
I'm all about making my life as easy and efficient as possible. With winter approaching, investing in a boot warmer made a lot of sense. It would help me with any more wet sneaker mishaps, and prepare me for the inevitable wet snow boots. My husband also works outside several times a week, so this has been a game changer for him.
The review
Set Up: The PEET Original Two-Shoe Electric Shoe and Boot Dryer was really easy to set up. You slide the two base pieces together, then stick the foot pieces onto the vertical tubes. Plug the dryer in, and it starts working in about five minutes.
Pros: The best part about this dryer is that it's silent. I was expecting to hear a blowing sound, and was pleasantly surprised that it was quiet, especially because I often use the boot warmer in our living room.
While it can take awhile to dry shoes and boots, I liked that the dryer didn't blast my boots with hot air. There's no risk of your boots getting warped that way. It is also much easier to use this dryer than it is to throw wet items in your clothes dryer, or stuff them with newspaper.
Cons: It can take awhile to dry items. But again, I think the benefits outweigh this.
I'm pleased with my purchase so far. For just about $45, winter just got a little warmer for my family's feet.
Do you use a boot dryer? Let me know!